5.4 Qualified Administrative/Academic Officers
The institution employs and regularly evaluates administrative and academic officers with appropriate experience and qualifications to lead the institution. (Qualified administrative/academic officers)
√  Compliance   ____Non-Compliance
Narrative
Appropriateness of Required Credentials and Experience for Leadership
St. Petersburg College's (SPC) administrative and academic officers are regularly evaluated and consistently maintain the necessary credentials, experience, expertise, and abilities required for the positions they hold to lead the institution. The College employs competent, qualified employees in accordance with guidelines summarized in Board of Trustees Rule 6Hx23-2.02 General Employment Rules and 6Hx23-2.022 Qualification of Instructional, Administrative, and Professional Personnel. The college abides by all federal policies and is an Equal Opportunity and Equal Access employer.
SPC assures that its Administrative and Academic Officer position requirements remain relevant and appropriate to the higher education and industry landscape and in line with peer institutions in the state of Florida and nationally. The College has undergone two compensation and classification studies in the last ten years, most recently in 2021-2022. These processes utilized outside contractors and HR specialists to review all positions, ensure appropriate credential and experience requirements for each role, garner input from employees and Senior Leadership on necessary duties and credentials, determine equity between pay scales, and support external competitiveness with similarly-sized institutions. Recommended position or classification changes were reviewed and approved by the President, Board of Trustees, Human Resources department, and Senior Leadership.
Recruitment
Administrative and academic officers are recruited nationally to help ensure the best pool of candidates are considered for any vacancies which occur at the College. Positions are posted on the College's official employment website and advertised in diverse higher education publications, nationally known job boards, and niche publications directed at those in specific academic areas. Applicant pools are reviewed to ensure there is a sufficient and diverse candidate pool before hiring managers can review the candidates. Screening committees are composed of cross-sectional representation across multiple departments and are headed by either a College administrator or faculty member. Additionally, all individuals selected for a position are screened by Human Resources to confirm that their qualifications align with those in the published position descriptions for the role before an offer of employment is extended. Work history and educational credentials are verified via a third-party vendor to ensure that all work history is correct and all reported degrees are accurate and from regionally accredited institutions.
Organizational Structure
The organizational structure of St. Petersburg College is the responsibility of the President, who employs each officer. St. Petersburg College posts its Organizational Chart online. The administrative and academic officers of the College include the Vice Presidents, Associate Vice Presidents, Provosts, Deans, General Counsel, and other senior administrators (approved by the Board on the recommendation of the President) with administrative responsibilities. The job descriptions for each position contain a section detailing the required education and experience an employee must hold. These requirements are also used to identify capable and competent candidates to fill these positions when vacancies arise.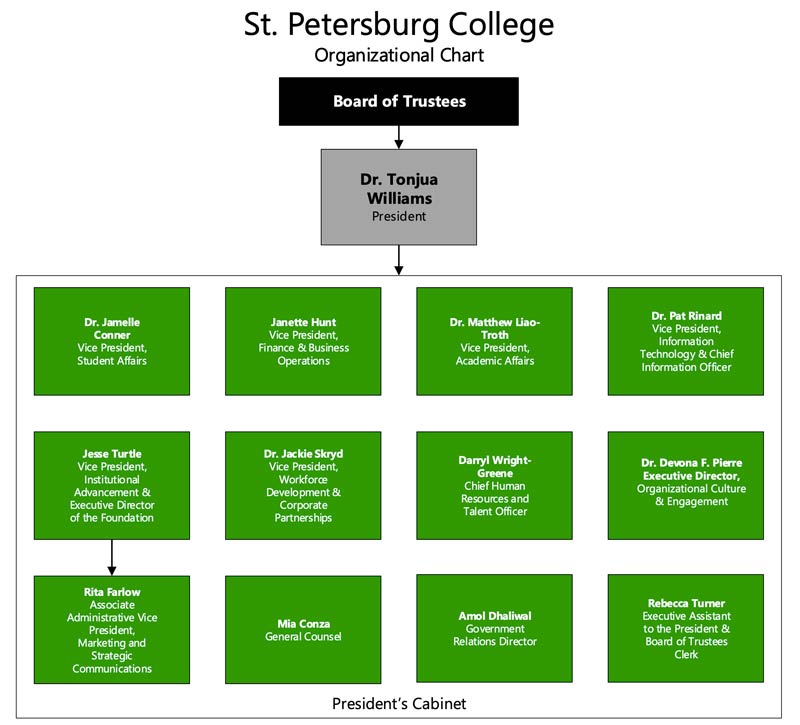 As shown in the Administrative and Academic Officers Roster below, the College's administrators and academic officers hold a wide breadth of appropriate educational credentials and experience to lead the institution, and all meet or exceed the minimum job requirements for their positions. The included roster breaks down the positions by category (those in the President's Cabinet, Associate Vice Presidents, Provosts, and Deans) and includes position titles, names, educational qualifications, and a summary of documented experience. The President's Cabinet is defined as those leaders who report directly to the President, with the exception of the Associate Administrative Vice President for Marketing and Strategic Communications. This role reports to the VP of Institutional Advancement but is included in the Cabinet due to the strategic nature of the role. The Cabinet's role is to approve administrative matters that require senior leadership approval and advise the President on any subject they may require.
Comprehensive information is provided in the hyperlinked job descriptions and resumes/curriculum vitae. SPC makes available information on the credentials, qualifications, and experience of administrators and academic officers through the College's Human Resources Department. Official copies of applications and documenting qualifications are kept in the employee's permanent files. These leadership positions are also reflected in the College's organizational chart.
Note: The College's 2021-2022 compensation and classification study resulted in some position descriptions being updated to reflect more current and comprehensive duties. Position descriptions may appear in one of two formats based on when updates occured. 

Part III: Fifth-Year Compliance Certification
Section 5: Administration and Organization
Section 6: Faculty
Section 8: Student Achievement
Section 9: Educational Program Structure and Content
Section 10: Educational Policies, Procedures, and Practices
Section 12: Academic and Student Support Services
Section 13: Financial and Physical Resources
Section 14: Transparency and Institutional Representation
Part IV: Follow-Up Report