The institution offers one or more degree programs based on at least 60 semester credit hours or the equivalent at the associate level; at least 120 semester credit hours or the equivalent at the baccalaureate level; or at least 30 semester credit hours or the equivalent at the post-baccalaureate, graduate, or professional level. The institution provides an explanation of equivalencies when using units other than semester credit hours. The institution provides an appropriate justification for all degree programs and combined degree programs that include fewer than the required number of semester credit hours or its equivalent unit. (Program length) [CR]
√  Compliance   ____Non-Compliance
Narrative
St. Petersburg College (SPC) offers 35 Associate of Science degrees and 1 Associate of Arts degree based on at least 60 semester credit hours and 17 baccalaureate degrees based on at least 120 credit hours. SPC does not offer any post-baccalaureate, graduate, or professional-level degrees.  The College does have any associate degree level degrees that do not meet the minimum threshold of 60 semester credit hours or baccalaureate programs that do not meet the minimum of 120 credit hours (see List of Program Lengths). All programs are based on a semester credit hour system, consistent with the Carnegie unit and defined in Standard 10.7.  SPC also offers college credit certificates, advanced technical certificates, applied technical diplomas, and certificates of professional preparation. Note: SPC also offers several clock-hour, workforce programs that are considered non-credit but can articulate into A.S. degree programs (e.g. Law Enforcement Academy articulates into the Criminal Justice A.S. as noted in the subplans).
Program Length Determinants
St. Petersburg College's (SPC) program lengths are appropriate for each of the institution's educational programs.  The College adheres to criteria established through specific guidelines and governing entities to determine the length of academic programs.  SPC's Associate of Science (AS) degrees and certificate programs conform to Florida Department of Education (FLDOE) Curriculum Frameworks, which are maintained and published by the Florida Department of Education. Associate of Science degrees range from 60-88 credits based upon standards set forth in the frameworks. Associate of Arts (AA) and baccalaureate programs (BAS/BS) conform to program length requirements established in Florida Statute 1007.25 (9,10), Administrative Rule 6A-14.030, Florida's State-wide Articulation Agreement (Florida Statute 1007.23) and the Florida Department of Education Common Prerequisites Manual. These governing bodies mandate that the AA degree requires no more than 60 semester hours of college credit and that baccalaureate programs require no more than 120 semester hours of college credit, unless approved by the FLDOE within the baccalaureate program approval submission.
Program Length Overview:
College Credit Certificates comprise varying semester credit hours
Applied Technical Certificates comprise varying semester credit hours
Applied Technical Diplomas comprise varying semester credit hours or clock-hours
The Associate in Science degree requires a minimum of 60 semester credit hours, including 15 semester credit hours in General Education coursework
The Associate in Arts degree requires 60 semester credit hours, including 36 semester credit hours of General Education coursework
Baccalaureate degrees (BAS/BS) require a minimum of 120 semester credit hours or clock hours
St. Petersburg College does not have any credit programs that varies from these expectations. These requirements were designed to fit into the expectation that full-time students could complete their associate's degree in two years and their baccalaureate degree in four years within the defined 2+2 model. As part of the Florida College System (FCS), academic programs at SPC are further defined by Administrative Rule 6A-10.024 to ensure articulation of its programs between and among other colleges in the FCS and institutions in the State University System (SUS).
Note: In addition to credit-based programs, SPC offers six clock-hour Career Certificate Programs (previously known as Post-Secondary Advanced Vocational PSAV certificates) within its Public Safety department.  The length of these programs is defined by State Board of Education Administrative Rule 6A-6.0571 and codified in the Curriculum Frameworks.  Per federal regulation, programs that exceed 600 clock-hours are eligible for financial aid.  SPC has two such programs, Florida Law Enforcement Academy and Firefighter/Emergency Medical Technician, as well as four that do not exceed that threshold. These programs are designed to meet agency requirements and lead to state certification in their associated fields.  They do not follow the SPC credit program development process discussed below, but rather utilize agency- designed curriculum for their programs.
New Program Development – Length Establishment and Monitoring
When a new program is identified for development at SPC using the Curriculum & Instruction Process, the academic program Dean and faculty, in conjunction with the Curriculum Services (CS) office, first consult the appropriate source (listed above) to determine the approved program length.  This takes place during the "meets requirements" step of the New Program process depicted below (see green arrow). Regardless of whether a program is offered in multiple modalities, face-to-face, blended, and/or online, the length does not change.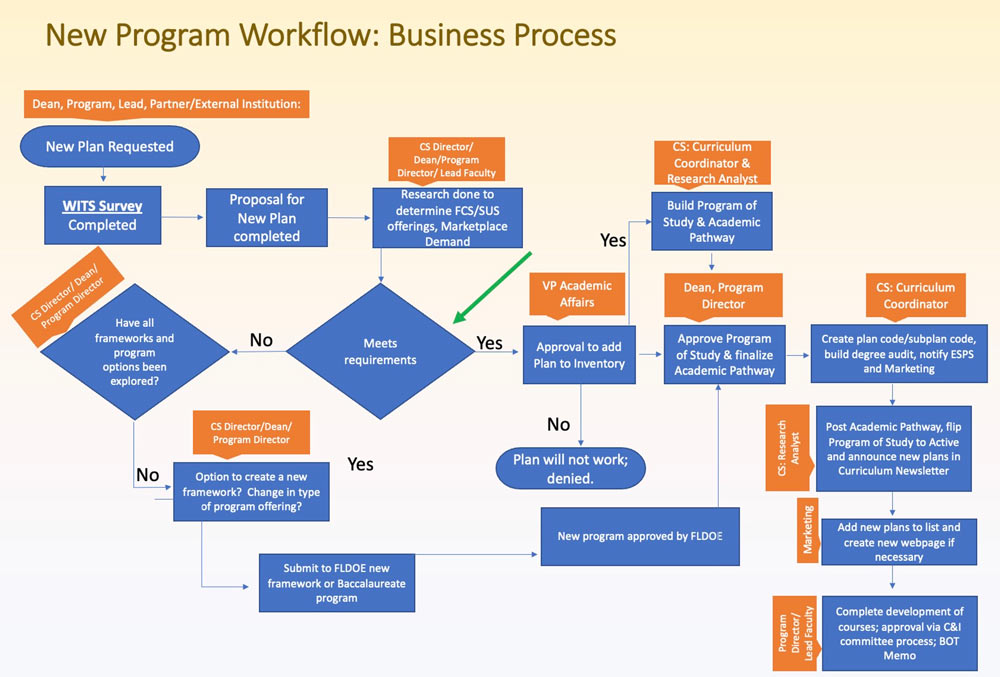 All programs list their curriculum and graduation requirements within the College Catalog and within the course tabs for each individual academic program (see Cybersecurity-AS as an example).  They are also defined within the curriculum management system META.

Part III: Fifth-Year Compliance Certification
Section 5: Administration and Organization
Section 6: Faculty
Section 8: Student Achievement
Section 9: Educational Program Structure and Content
Section 10: Educational Policies, Procedures, and Practices
Section 12: Academic and Student Support Services
Section 13: Financial and Physical Resources
Section 14: Transparency and Institutional Representation
Part IV: Follow-Up Report