12.1 Student Support Services
The institution provides appropriate academic and student support programs, services, and activities consistent with its mission
(Student support services)
√  Compliance   ____Non-Compliance
Narrative
St. Petersburg College (SPC) provides appropriate academic and student support programs, services, and activities that support and promote student learning, engagement, and personal and professional development consistent with its mission, vision, and values.
The mission of St. Petersburg College is to empower our students and community to achieve success and economic mobility through academic excellence and engagement.
As such, each academic and student support program is designed to support the attainment of the key elements of the mission, the same key elements that form the foundation of the College's Strategic Plan.
Empowering students to achieve success sets students on the path to success and includes Recruitment and Enrollment, Business Office, Admissions & Registration, Financial Aid, Career and Academic Advising, Student Mental Health and Wellness, Veterans Services, Computer Labs, and Testing Services
Academic Excellence focuses on supports that promote course completion, retention, and graduation including Student Orientation, Accessibility Services, Learning Resources, English for Academic Purposes, Honors Programs, and Specialized Services/ Programs
Engagement promotes opportunities for students to gain life and civic experiences and includes the Center for International Programs and the Student Engagement Suite of Opportunities
Economic Mobility prepares students for job attainment following graduation and includes Career Services and Work-Based Learning Experiences
Student Body Profile and Access to Services
As mandated by state law (F.S. 1004.65(4)) and stated on its admissions website, St. Petersburg College is an open-access institution, serving the needs of a diverse student population across multiple campuses, including off-campus Dual Enrollment High School sites, as well as across all modalities in which classes are offered, including online.  SPC provides opportunities for students to complete degree requirements for associates-level and baccalaureate-level degrees; complete certification requirements for career entry; enroll in courses to enhance job skills; and/or take courses for lifelong learning and personal enrichment. As demonstrated by the Student Body Profile for the 2021-22 Academic Year in Table 12.1.1 below, SPC students are spread across multiple age brackets with more than 40% over the age of 25. Many of these students have varying competing needs, such as families and employment; 74% of students work at least 30 hours per week.
Table 12.1.1 — St. Petersburg College Student Body Profile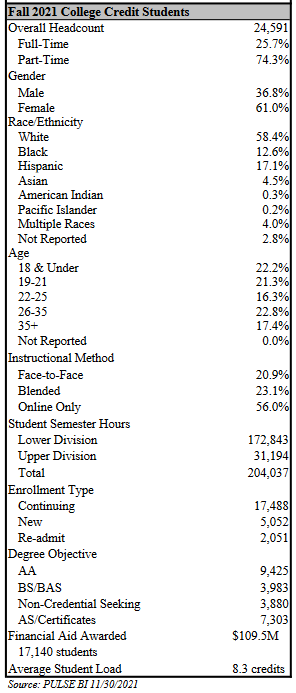 Source: SPC Institutional Research, SPC Fact Book, At a Glance, 2021-2022
Therefore, academic and student support services are designed to best meet the needs of all students regardless of enrollment status, age, or ability to come on campus. Flexible scheduling, online service availability, and the ability to interact with resources via multiple avenues (phone, email, in-person, live online chats) are available, where appropriate, to support access for all.  On-campus support services are provided at each of the main campuses for those who prefer face-to-face interaction.  Due to their close proximity to one another (within 30 minutes or less), some campuses and sites share a selection of services, such as Career and Accessibility Services staff: Allstate is serviced by St. Petersburg/Gibbs; EpiCenter is serviced by Clearwater; and the Veterinary Technology Center is serviced by the Health Education Center. Most services are also available online, including Advising, Financial Aid, and Learning Resources. Online services can be accessed through the Student Support Resources webpage,  Online Services webpage, Titan Hub, within their LMS course shell, or through direct navigation to the service department webpage.  All SPC students, regardless of instructional location or mode of delivery, have access to the same academic and student support services at any campus or online.
Organizational Structure and Determining Students' Needs
To ensure that the delivery of academic and student support services is the same across all campuses and online, SPC's organizational structure is based on a "one-college" centralized model wherein departments providing academic and student support services set the policies and procedures used across the college.  These departments report up to four of the five Vice Presidents (VP) of the College:  VP of Academic Affairs, VP of Student Affairs, VP of Workforce Development and Corporate Partnerships, and VP of Finance & Business Operations.  Having this broad base of college leadership oversight ensures that student supports span the entire student pathway from application to post-graduation outcomes and that any changes align with the College's strategic plan and mission attainment.
Table 12.1.2 — Organizational Structure of Academic and Student Support Services
Empowering Students to Achieve Success
• Learning Resources
• English for Academic Purposes
• Honors Program
• Center for International Programs
• Work-Based Learning Experiences
• Recruitment & Enrollment
• Admissions & Records
• Financial Aid
• Career and Academic Advising
• Student Mental Health & Wellness
• Veterans Services
• Testing Services
• Student Orientation
• Accessibility Services
• Specialized Services
VP Workforce Development & Corporate Partnerships
• Career Services Work-Based Learning Experiences
VP Finance & Business Operations
SPC leadership and individual departments identify students' needs through surveys, focus groups, and personal interactions with students. Additionally, SPC student leaders provide semester updates to the Vice President of Student Affairs regarding campus engagement opportunities, issues, and concerns through the Student Council of Presidents (SCOP), representing all student government organizations. This combination of soliciting input from students to determine appropriate support is augmented by looking at hard data to determine if it is meeting students' needs. As such, the following practices and tools are utilized to gather student feedback:
Institutional Surveys – Entering Student, Enrolled Student, and Graduating Student surveys are administered annually in addition to the point-of-service Titan Experience departmental survey. The Entering Student Survey measures student experiences at the beginning of their enrollment process. The Enrolled Student Survey measures student satisfaction with support services and resources as well as the importance of these initiatives. The Graduating Student Survey measures student satisfaction with their overall education at SPC, their preparedness for job entry or continuing education, and their transfer goals to another institution and employment plans. The Titan Experience Survey is a time-sensitive survey that measures students' satisfaction with services provided following receipt of those services; students are able to request follow-up contacts for any unresolved issues. Results of all surveys are shared with those responsible for the respective programs or service areas. Information garnered is used for program and process improvements with the primary goals of enhancing student success, access to support resources and enhancement of the SPC Student Experience.
National Benchmarking Surveys – SPC participates every two to three years in the Community College Survey of Student Engagement (CCSSE) and the Survey of Entering Student Engagement (SENSE). Each of these surveys measures SPC students' rankings and satisfaction with core academic and student services against those of similarly-sized institutions nationally. Comparisons of institutional results across years allow College leadership to identify which program areas are meeting student needs and any areas of concern that need addressing.
Focus groups – Topic-specific focus groups are held regularly throughout the College. Results from focus groups provide information and guidance for service improvements.
Student Council of Presidents (SCOP) – The Vice President of Student Affairs meets each semester with Student Government presidents from each campus to discuss student concerns, requests, and issues. This organization is responsible for orchestrating student activities college-wide, including budgets on their respective campuses. Prior to identifying campus budgets, student government presidents are charged with soliciting student input. Budgets are used to fund campus activities, leadership retreats, and other identified student needs.
Institutional Data – Data collected college-wide is used to strengthen academic and student support. The college uses Power BI as its data administration platform.
Data is provided at the end of each academic and student support service section within this narrative, using the tools above, to show the perception of the adequacy of that service.

Part III: Fifth-Year Compliance Certification
Section 5: Administration and Organization
Section 6: Faculty
Section 8: Student Achievement
Section 9: Educational Program Structure and Content
Section 10: Educational Policies, Procedures, and Practices
Section 12: Academic and Student Support Services
Section 13: Financial and Physical Resources
Section 14: Transparency and Institutional Representation
Part IV: Follow-Up Report